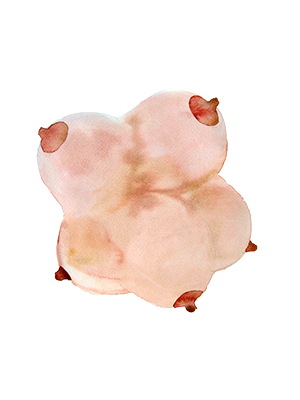 Exhibition from April 24 to 27, 2014.
Opening Thursday, April 24, 6-9 pm.
Anna Rún Tryggvadottir, Stéphanie Chabot, Virginie Jourdain, Noémi McComber, Helena Martin Franco and Josh Worman.
The collective L'Araignée is proud to present the first edition of OFF-Papier, an exhibition taking place in the margins of Papier 14 (Contemporary Art Fair of Works on Paper). Presented in an art studio and developed in a convivial spirit, OFF-Papier brings together more than twenty works on paper. In accordance with the collective's feminist mandate, the exhibition explores themes relating to marginality, intimacy, and the desire to search for new territories, while challenging normative precepts. Whether by redefining signs and the relations between things, by exploring the process of transformation, or simply by using humour, the six invited artists investigate the porousness of these delimitations and the potentialities that emerge from it.
Founded in January 2011, L'Araignée is a platform for artistic collaboration, formed to foster dialogue and to create new contexts within which to exhibit the work of its members and that of guest artists, both locally and internationally. Sharing a feminist perspective, the members of the collective are united in their desire to initiate projects and to exhibit art that reflects not only their artistic sensibilities but also their political stance. Creating links between communities, the artistic establishment and artists, all of whom hold their own specific interests, L'Araignée seeks to nurture reflection and to raise questions around our assumptions and expectations of contemporary art.
Opening Hours :
Thursday April 24 : 6 pm to 9 pm
Friday April 25 : noon to 6 pm
Saturday April 26 : noon to 6 pm
Sunday April 27 : noon to 6 pm
 * Free admission
Pôle de création et de diffusion de Gaspé
Entrance at 5445 de Gaspé, 6th floor
Studio601.1 (door in front of the elevator)
Montréal, Québec  H2T 3B2
More information on the artists :
Anna Rún Tryggvadottir's works are developed as integral parts of installations in which all organic and synthetic substances are interrelated and interdependent. She is interested in random processes and in the performative potential of staged elements, which result in enigmatic and iridescent compositions evoking a sense of elsewhere.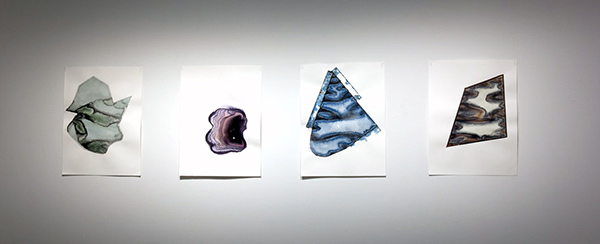 In her drawings, Stéphanie Chabot seeks to translate a certain mental state characteristic of our era, as well as the hidden parts – from which this same era disappropriates us. Devoid of irony, the fictions she composes explore 'bad taste', transformation, strangeness, and femininity.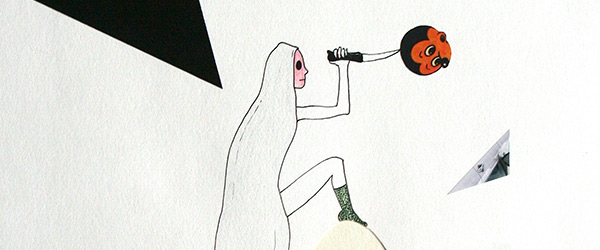 The artistic practice of Virginie Jourdain revolves around drawing, in which ambient normative discourses are decrypted and deconstructed, in order to open up other possibilities. Her sensitive and colorful compositions present different ways of identifying the self and engaging with others, outside of usual assignation principles. They allow for a redefined space, marked with desire and liberating projections.

Noémi McComber presents a series of drawings which investigates the complexities of relating to others. Her works are grouped in diptychs and triptychs in which isolated forms alienate one another. They rub up against each other, creating a tension between attraction and repulsion. By deploying intrusive elements, she aims to formulate new poetic spaces.

Helena Martin Franco's drawings are articulated around the fictional character of the elephant-woman, who personifies the most intimate questions concerning identity. The thematic is examined through drawing from an uncertain and capricious point of view: that of desire. With each iteration, a new representation is suggested, constantly reformulating the identity of the elephant-woman.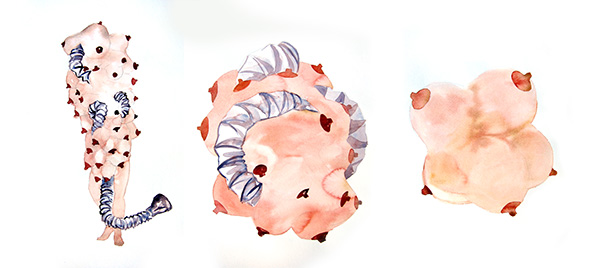 Using recycled materials, Josh Worman assembles structures, draws imaginary creatures, and builds miniature environments. Guided by intuition and chance encounters with discarded objects, he attempts to question the authority of language and predetermined forms, as well as the hierarchical relations that are codified within society.